Sonia Livingstone and the use of digital technologies
Sonia Livingstone, professor of Social Psychology and Head of the Department of Media and Communications at the London School of Economics and Political Science, gave a talk in the context of #EdChange 2021 on the use of digital technologies in education. 
In this clip she mentions the network EU Kids Online and their report from 2020 about the use of the Internet at schools. 
In July 2021, the use of mobile devices in classrooms was banned in Great Britain. Livingstone contrasts this decision with the European Commission for Education's perspective which highlights the relevance of including technology in the classroom and in education.
The full talk can be seen here.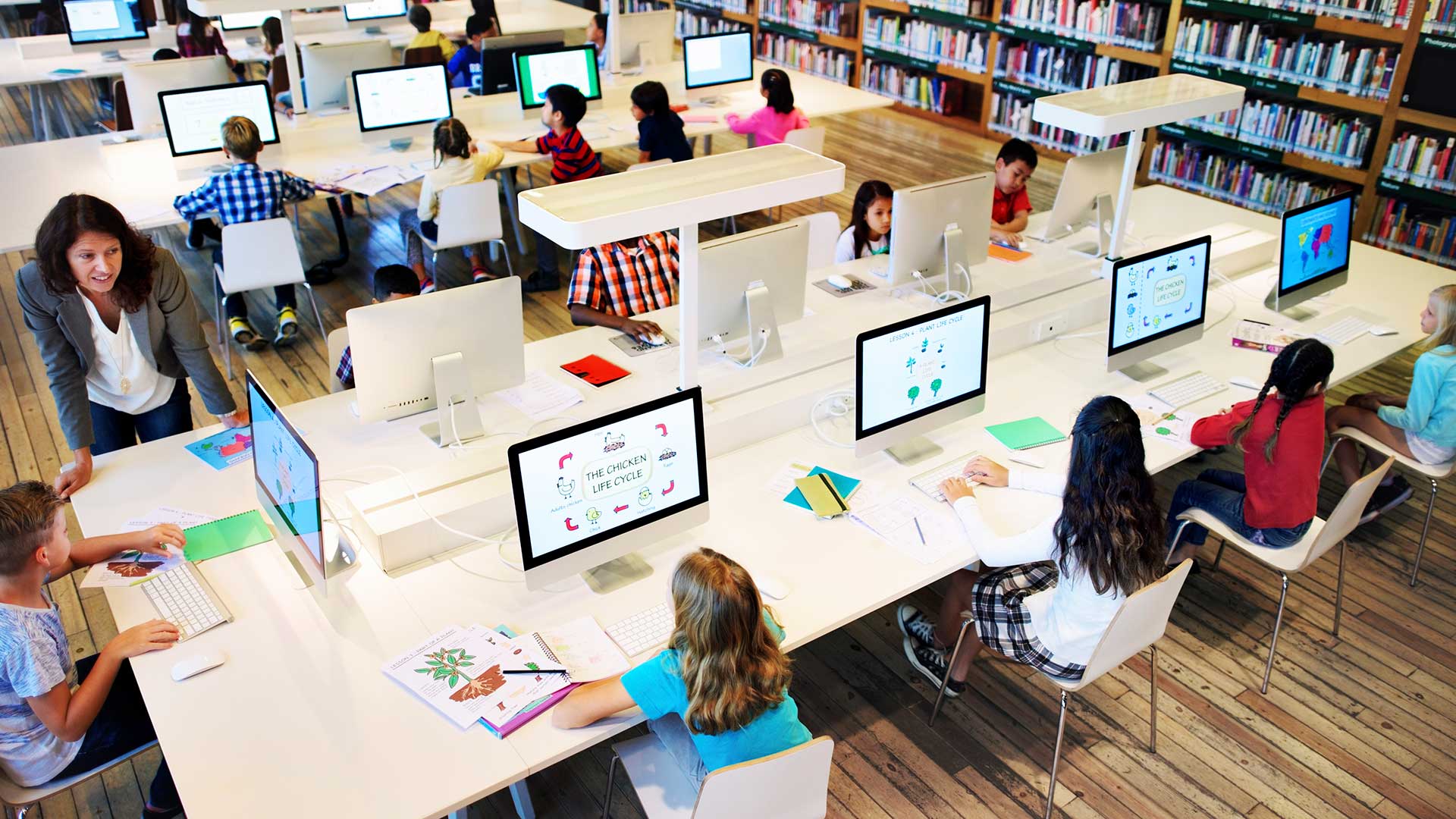 Covid 19: re-thinking learning and teaching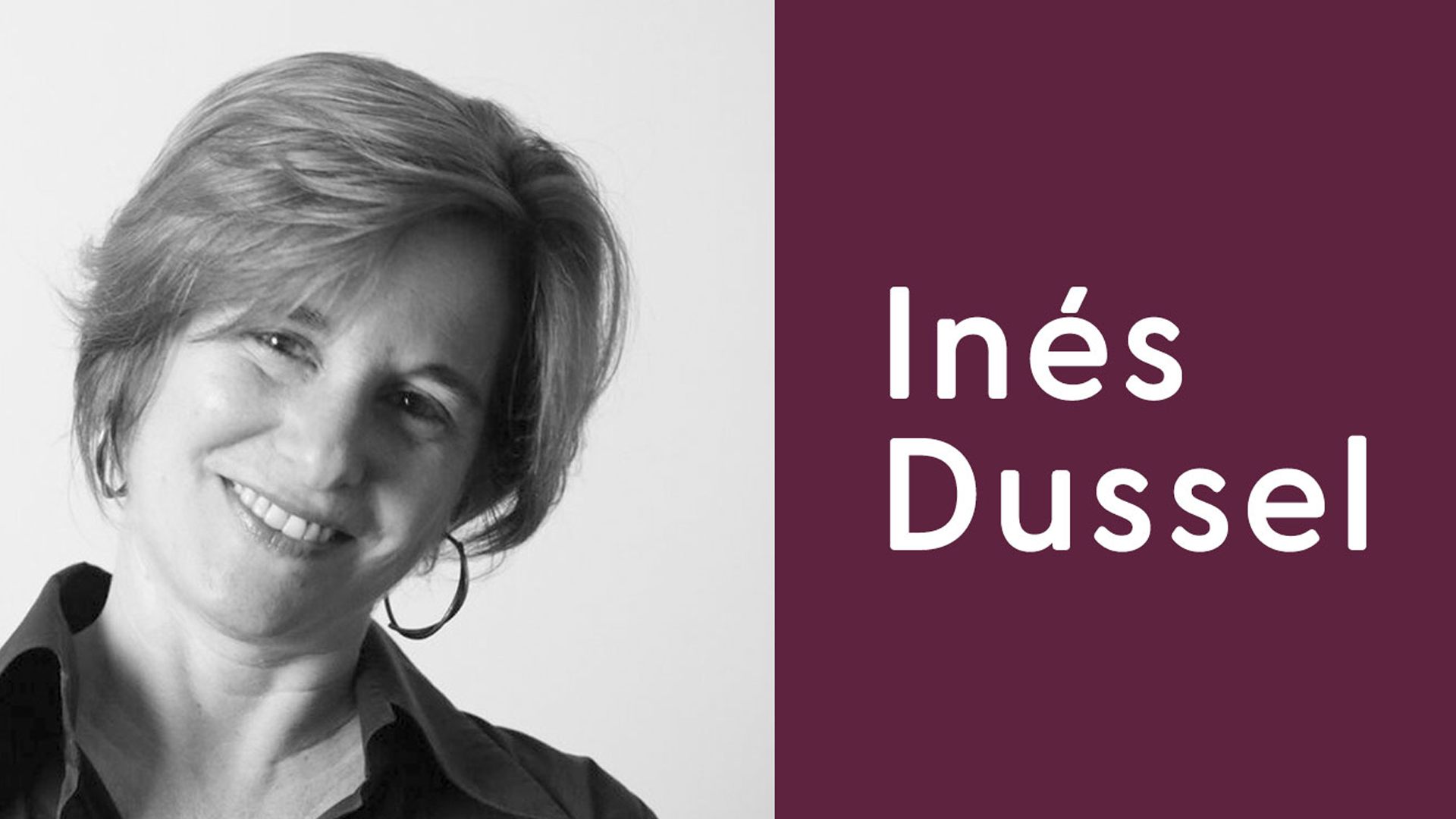 Jose Puig I Cadalfach Institute: "Our students weren't aware of the dangers behind misinformation"
Our Institute, the Jose Puig i Cadafalch Institute, is a teaching community. The learning process of our students is extremely important to us but we strongly believe that it has to go along with proper behavior models, a great amount of autonomy and a sense of responsibility. In this regard, one of the main goals of our institute is to favor the students' access to digital technologies, and to help them relate in the healthiest way possible with mobile devices and their  apps.
These cross-cutting learnings are meant to be strengthened through the  long-term project "Digital Media Awareness" that has been implemented , with our Erasmus+ platform international partners, . This project, with English as the working language, provides the students with a space to research and learn about current ICT related subjects.  This space allows them to share common thoughts and worries with their international classmates, and discuss  important subjects such as misinformation, fingerprints, digital identity and digital fingerprints, as well as hate speeches and cyberbullying. The project Fake News has been developed together with 4th year ESO (secondary) students.  They have created workshops and dynamics, to develop during the visit of their international classmates, and to work in the classrooms with the younger students from the school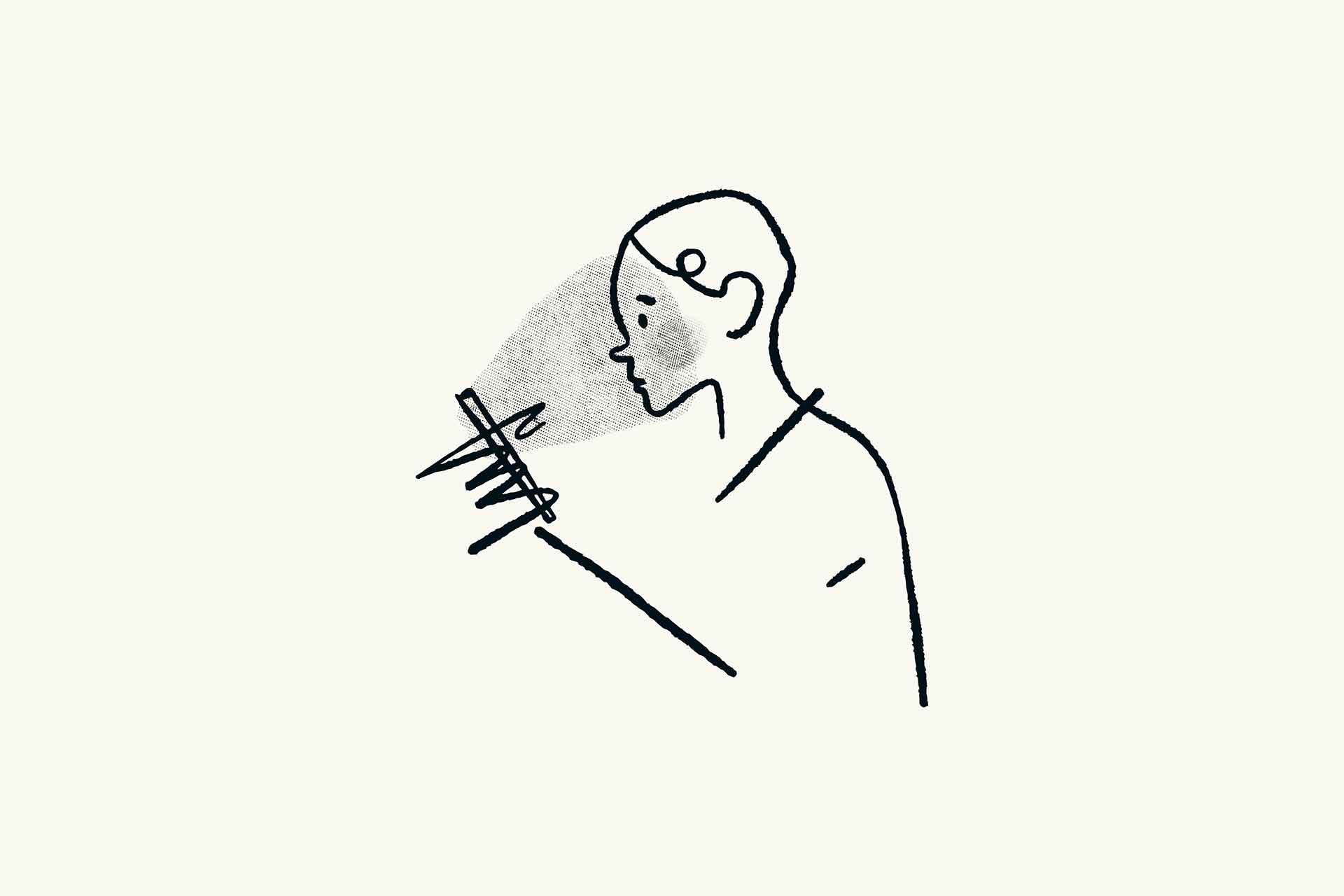 When the Fake News workshop started,all students from the Institute and all participating students from international schools that are part of the program were surveyed. Results showed the lack of knowledge and awareness about the dangers behind misinformation, the lack of analysis and revision of accessible information, andand what we can do to spot false content in time.
Once the Project ended, the same survey confirmed that the 4th year ESO students had increased their awareness on these issues and how to act on them. It was highly rewarding to see how their work had an impact on their behavior and their use of information sources. The rest of the surveyed students showed a fundamental change in their knowledge of this phenomenon and how they perceived themselves as agents involved in the fight against misinformation.
We are aware that we need to continue working and creating materials that can be used in the classrooms. Due to the wide range of possibilities to apply these workshops we will continue to use them in our school, to educate new generations that arrive at 1st year ESO The materials and workshops will also continue to be available as information sources so other teachers in the Erasmus+ platforms can use them during their lessons. The result of this project has been a success and we are very satisfied. We have been able to create awareness in our students and have resources to form and educate them in the best possible way.
Media Literacy
Practical resources
EduCAC: classroom and home resources
EduCAC is a space with the will to provide, mainly to schools, but also families, learning resources for a critical and responsible use of communication media.
The Consell de l´Audivisual de Catalunya (CAC) together with the Education Department of Catalunya Generalitat presents this curriculum in communication education created with the goal of promoting media education in both formal and informal learning environments.
You can access educational material, learning resources on communication media, audiovisual language and teacher aimed programs, contents and proposals for the families by clicking here.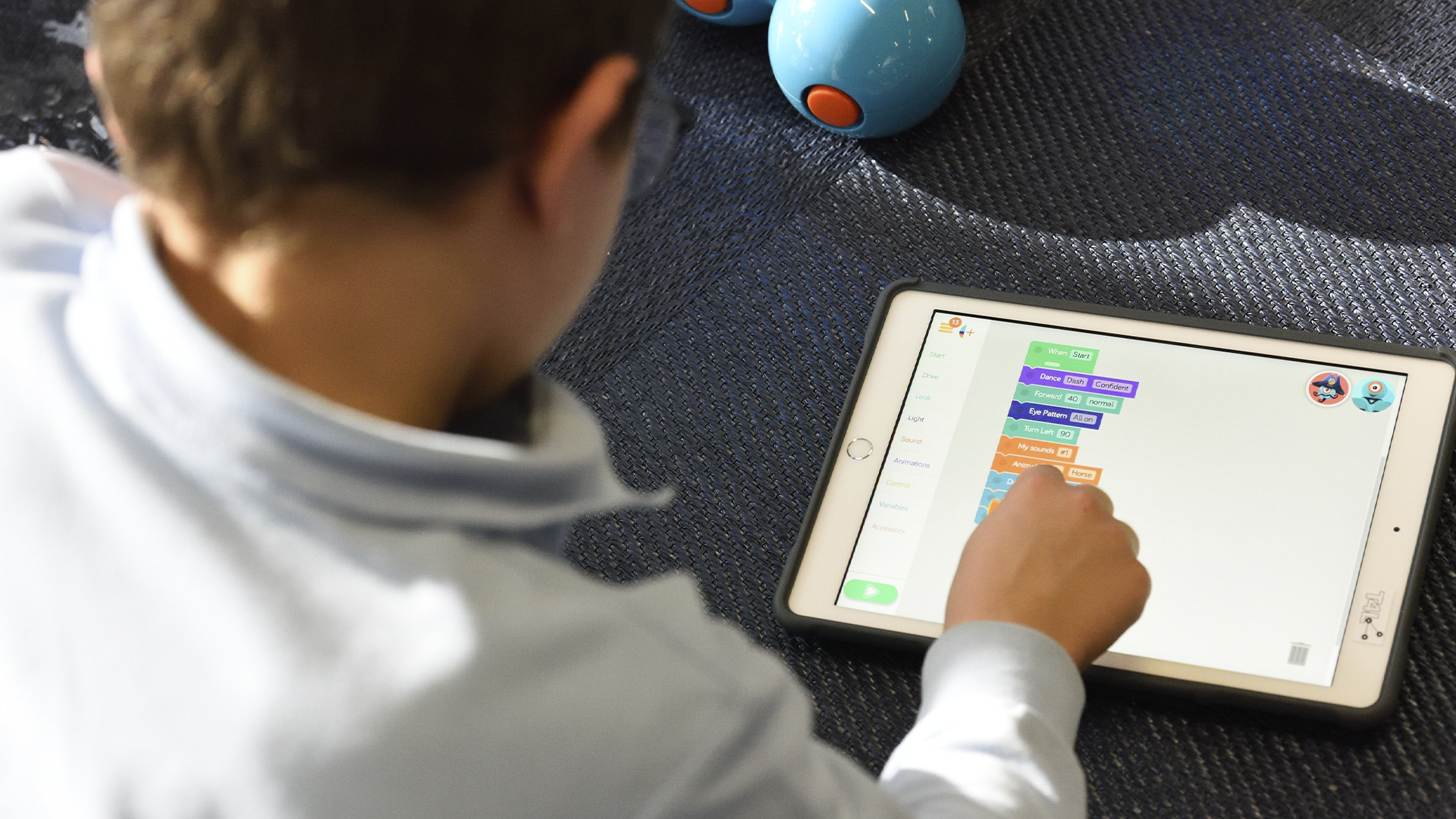 Media Literacy
Practical resources
How to verify real news in a few steps? A Guide with essential advice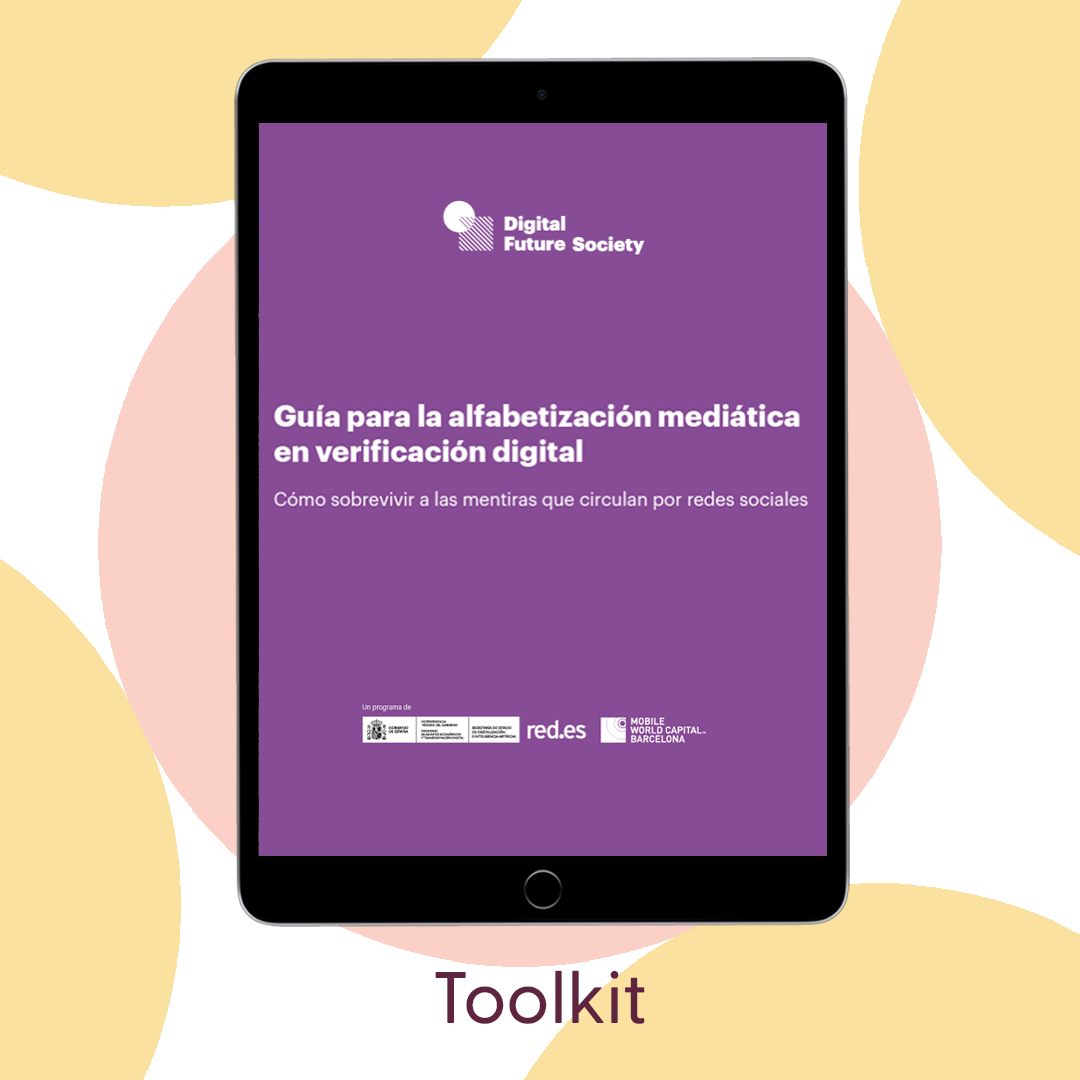 Misinformation affects all of us but not everyone has the abilities and knowledge to check the fake news that pop up on digital platforms.
The Guide to Media Literacy in Digital Verification is a short, practical and visual document containing a decalogue to quickly understand by yourself how to contrast digital content and put a stop to misinformation.
Published in 2021 and made by the Digital Future Society (Mobile World Capital) and Learn to Check, the guide includes infographics that show the process needed to verify information, photographs, videos and social media accounts.
The decalogue also has tools and advice on how to act when presented with fake news, how to help others and how to inform yourself in a critical way.
This document is free and available both in print and its digital versión, both aimed at all audiences.
Download it here

Media Literacy
Infographic
Cognitive biases, why do we swallow the misinformation bait?
How to foster critical thinking in the classroom.
In the current digital society, students can access large amounts of information. At any time and only one click away. However, not all information they are exposed to is truthful or reliable. 
From this diagnosis comes the challenge and need to power critical thinking at school, so young people can analize, reflect and filter the contents they use, reducing their vulnerability to external manipulation and powering one of the most important cognitive abilities for personal and professional development. 
When we talk about information and lack of information consumption and spreading, it is important to deepen the recognition and analysis in biases, understand their fundamentals so that students can learn to identify, classify and analyze content and, at the same time, become aware of their own.
Whether in consumption or diffusion of misinformation, we have a key role, voluntarily or involuntarily, as social network and internet users. As digital citizens with platforms we go from being consumers to prosumers. 
When reading, searching or consuming content, cognitive biases are operating on our perception: a way of viewing the world with which we filter all the information that we face and affects all people in different aspects of life. 
In this sense, when working with misinformation it is important to go deep into different types of biases that have an influence in our ties with the information we consume and spread.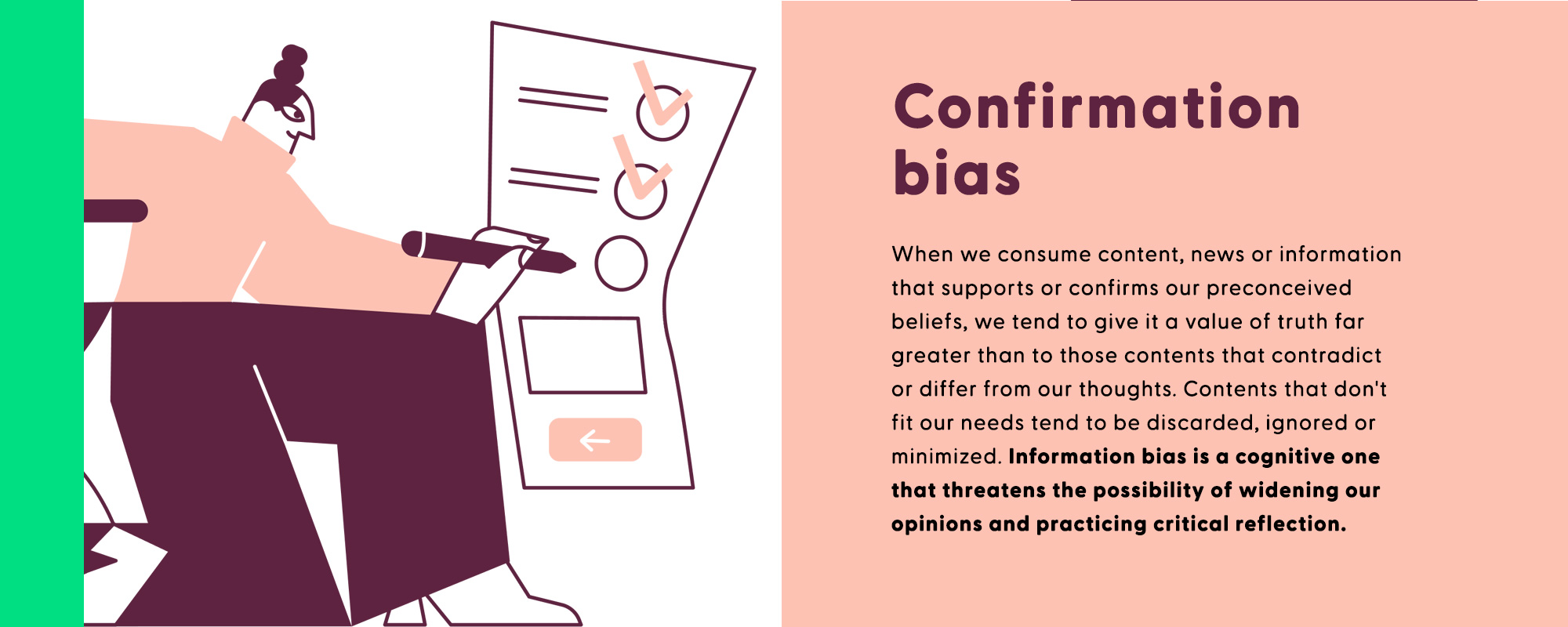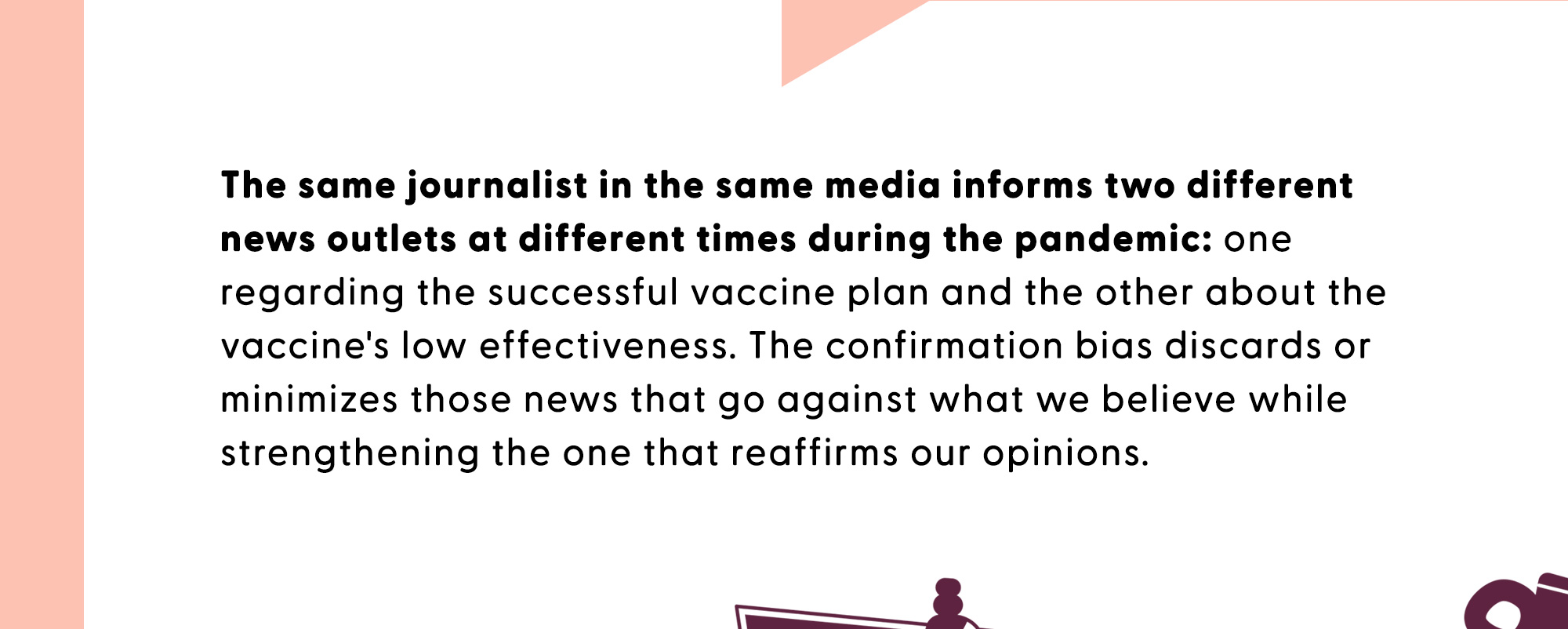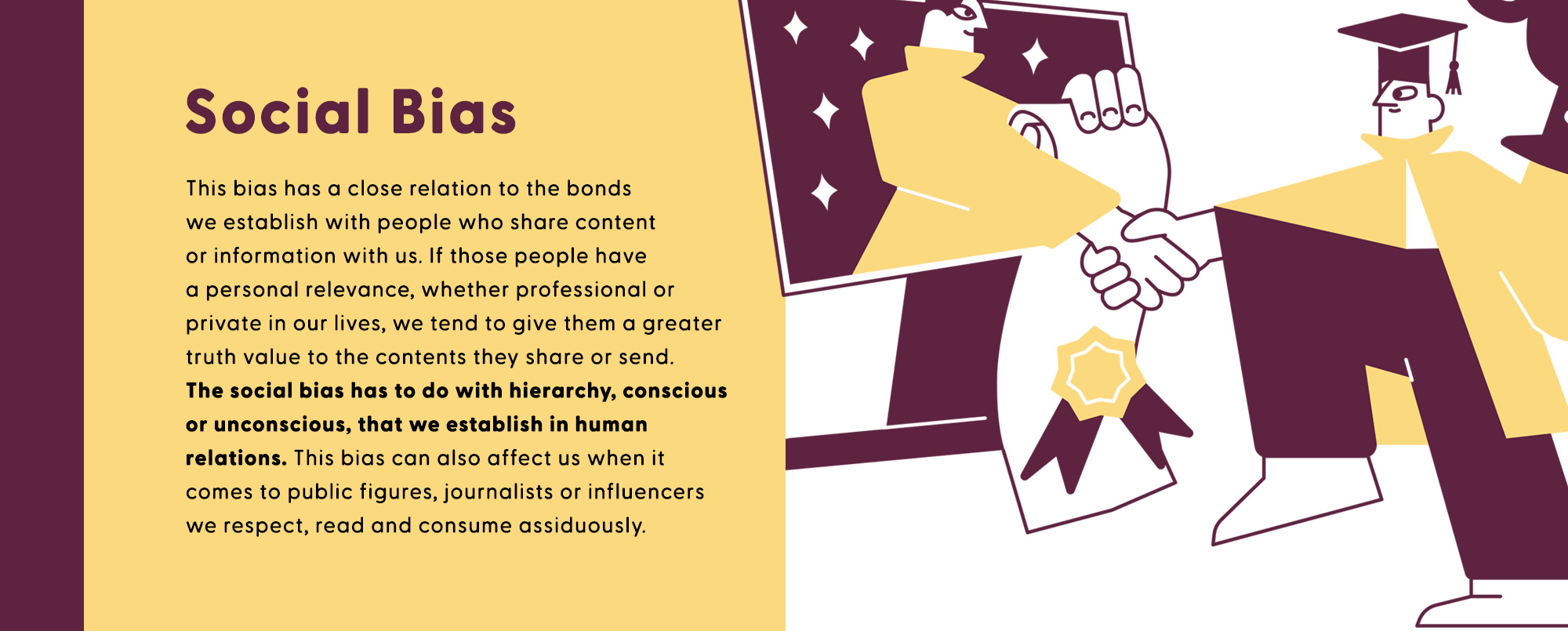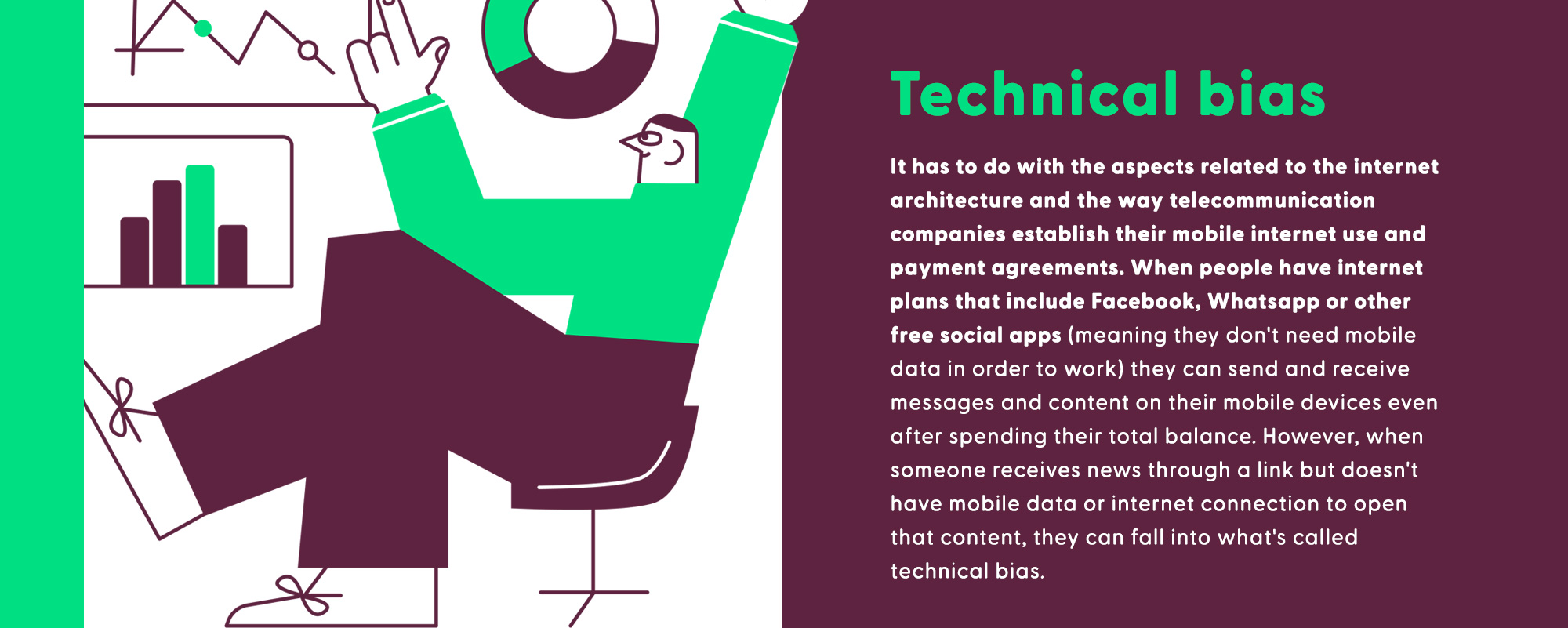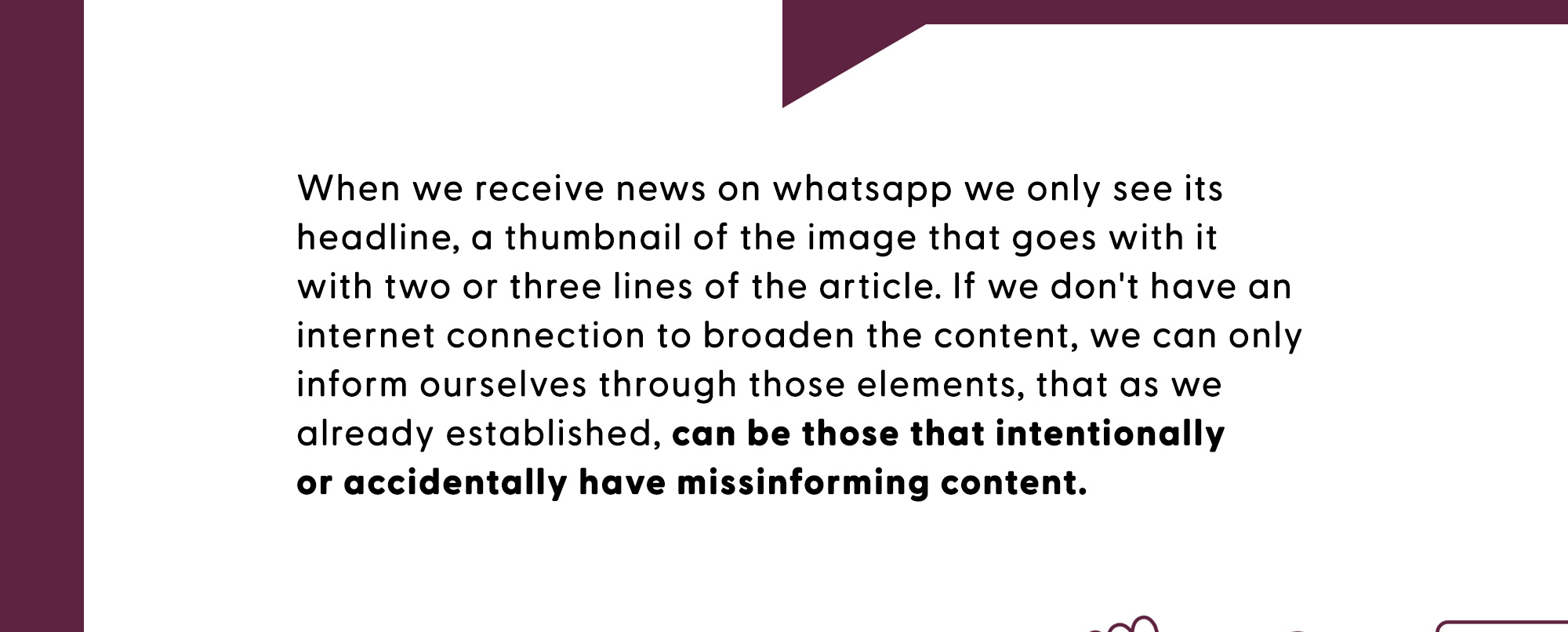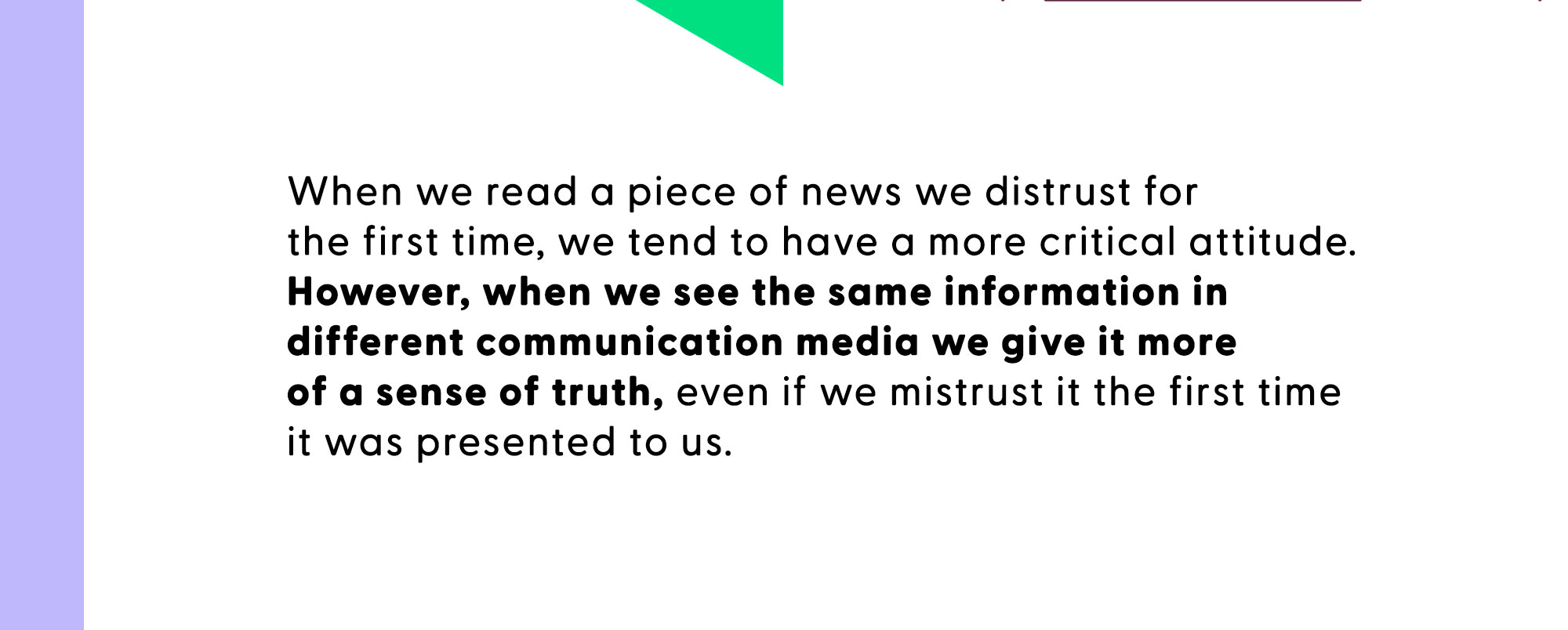 Biases have a major role when it comes to understanding the complex aspects of the misinformation issues, since they make up for different obstacles to access information in a reflexive and critical way. 
Misinformation production is enriched by these biases that act deeply in polarized societies that are constantly looking to confirm their beliefs and previous values.
Truthful information and news or contents that uncover misinformation campaigns have a lower reach effect than false, manipulated, twisted or outdated content, since its less attractive for not operating in line with bias
Due to all this, it is key to develop critical consumption and abilities and spread responsibility, not only when talking about misinformation but also to form a digital citizenship that is more committed with their historic time. 
Below you will find some links that may come useful to work on this subject in the classroom: